Welcome to the T-Shirt Bin
The T-Shirt Bin is a proud distributor of officially licensed superhero t-shirts and merchandise from the three major comic book companies of Dark Horse, DC Comics, and Marvel Comics. We have a great selection of superhero t-shirts to choose from including Superman, Batman, the Green Lantern, Wonder Woman from the DC Comics comic book brand.
For Marvel Comics, we have tees featuring the Incredible Hulk, Spiderman, Iron Man, the Punisher, and many more and we also feature Hellboy of Dark Horse Comics. Our superhero t-shirts are all licensed by either Dark Horse, DC, or Marvel Comics, so you know you are getting a great product and these tees make a great gift for any comic book fan. We also carry officially licensed keychains and hats for popular superhero comic book characters. If you love comic books, the be sure to check out these tee shirts.

We have also added a new movie and tv show t-shirts section featuring classic, 80s, horror, action, and comedy movie t-shirts. In our tv show section, we have classic and current tv show t-shirts including the Three Stooges, the Simpsons, and more.
Batman & Superman T-Shirts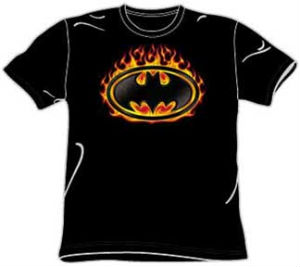 We have added several new designs to the classic Batman and Superman t-shirts section of our site. We currently offer over 40 designs for the characters.